Opening Hours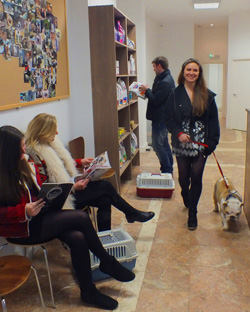 Clinic opening hours
The practice reception is staffed all day for clients to drop off and collect pets, collect medications and make enquiries, as well as purchase products.
Monday – Friday: 8.30am to 5.30pm; Saturday: 9am – 12pm
Veterinary consultations
All consultations with the vet are by appointment to allow plenty of time.
Monday to Friday: 8.30 to 12.30pm; 3pm – 5.30pm;
Saturday: 9am – 12pm
Nurse clinics
Our nurses are happy to provide a free nursing check for suture removals, dietary advice and weighing, clipping nails etc. This clinic runs every day except Wednesday between 2.30pm and 3pm but please try and book an appointment.
House visits
If you prefer a house visit or if your pet is nervous about visiting the clinic, Kevin is always happy to come to your home. House visits are organised after the morning clinic, usually around lunchtime. Please telephone the clinic in advance to arrange a house visit .
Please telephone 020 7225 2915 to book an appointment or arrange a house visit